Twilight Circus
production -
Mikey Genera
l 'Tell It Like It Is' ..
This one has just hit the streets and is almost sold out already - grab your copy from one of the usual sellers ASAP! Limited edition of 200 copies, 
dubplate
style. Each copy is individually engraved on a polyvinyl disc in real time 1:1 using a custom lathe, hence the higher unit price. The disc sounds fantastic as being cut in this way as opposed to 'pressed' like regular vinyl means the sound levels and bass are louder - it detonates off the turntable!
On the Adamas imprint, a subsidiary of
Kingston Connexxion
.
Extended mix & unreleased cuts.
Some sellers:
Deep Roots Shop (France)
Jah Waggys Online Shop (UK)
Dub Vendor (UK)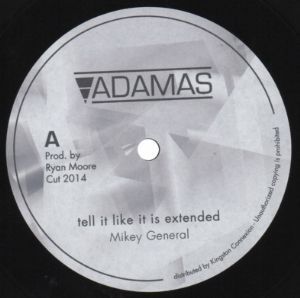 Audio: